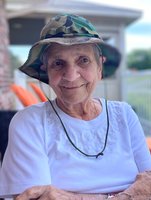 Laura Theresa Burrows
It is with profound sadness but gratitude for a life well lived that we announce the passing of Laura Burrows (Gallant), 87, of Saint John N.B. after a very brief stay at the palliative care unit of the Saint John Regional Hospital due to failing health.
Laura is survived by her well-loved children, Debbie Montgomery (Mike) and Earle Burrows (Gina), two cherished grandsons, Harrison and Reid Burrows, her loving sister, Jeannine MacDonald of Edmundston, N.B., a large number of devoted nieces and nephews and many dear and faithful friends.
She was preceded in death by her husband of 54 years, Bill Burrows, parents Benoit and Evelyn Gallant, brothers Marcel and Raymond (Ti-Noir) Gallant, sisters, Micheline Gagnon (Lionel), and Georgette Gallant.
Laura was born in Edmundston. N.B. on Oct.18th. 1932. In 1957 she married Bill, the love of her life. They embarked on a lifelong adventure that took them to Toronto, back to Edmundston, on to Saint John N.B., then to Florida and finally back again to NB, to the small community of Grand-Bay Westfield, where they spent their retirement years doting on their two grandsons, taking unabated pride in the accomplishments of their two happy and successful children and their spouses. In their uniquely unpretentious, modest and deeply caring way, Bill and Laura always gave more than their share to their community, their friends and family and all who came to know them.
Laura and the word favorite are often spoken in the same sentence. From an early age, she was everyone's favorite. From favorite dance partner, to favorite classmate, favorite mom to her children's friends, (she is known to her grandchildren's friends as Mére), favorite aunt, favorite employee, favorite neighbor, favorite friend, confidante, adventurer, cheerleader, gym patron, patient, parishioner, senior home resident, and the list goes on. If she wasn't your favorite, then it was because you had not been lucky enough to cross paths with her. Laura did not need a welcome mat at her door. It was written all over her face and captured in that big genuine grin on her face when you showed up at her door, expected or unexpected, friendly or needy or both. Her generosity knew no bounds. Laura had a reservoir of inexorable and unwavering strength that belied her pin-sized stature. And no one left her home without having their thirst quenched, even if you never mentioned that you might be thirsty.
Laura understood the meaning of what it is to love and be loved. She was one in a million; unforgettable, irreplaceable and forever etched in the heart of all who knew her.
Arrangements are under the care and direction of Brenan's Bay View Funeral Home, 1461 Manawagonish Road, Saint John, NB (634-7425) Respecting the guidelines regarding Covid-19, a private funeral liturgy will be held for family only. For those who wish, remembrances may be made to the SJRH Stay Strong Oncology Exercise Program, and online condolences may be placed at www.BrenansFH.com.