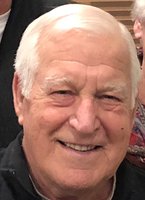 Robert Joseph Babineau
Passed away peacefully surrounded by love and laughter on October 15th, 2020 at age 77.
Bob was a lifelong resident "Westsider" born and raised in Saint John, NB to Mary and Alyre Babineau. He was predeceased by his wife of 50 years Darlene(Doyle), parents, son-in-law Sean, sister-in-law Sandra(Humper) as well as his beloved canine partner in crime "Mulligan". He is survived by his two daughters, Michelle and Joanne, his son Bobby (Candace), his grandchildren Jacob, Lauren, Taryn, Cortlyne Hicke (Keith) and his great granddaughter (Kaylee) as well as his brothers David (Colleen) ,Norman and sisters Rose Marie and Florence (Peter) Lanctot. In addition to several nieces and nephews especially Paul and Scott Ferguson. He worked for many years at the Paper Mill, Bayside Drive, and the Lancaster Police Force.
Bob had many cherished friendships including Lloyd, Tommy, and Brownie just to name a few. He was a dear and longtime friend of Bill W. Bob was a legendary storyteller who was quick to share a big smile, belly laugh and handshake with everyone he met. His favourite past times included puttering around the West side socializing, buying break open lotto tickets and banana popsicles for his drooly BFF.
His favourite nugget of wisdom was "Some days you are the fire hydrant, some days you are the dog".
Arrangements are under the care and direction of Brenan's Bay View Funeral Home, 1461 Manawagonish Road, Saint John, NB (634-7425). His family and friends will be celebrating his life with a visitation on Monday, October 19, 2020 from 2-4 PM and 6-8 PM. Interment will take place in Holy Cross Cemetery on Tuesday, October 20, 2020 at 1 PM. All are welcome to attend. In lieu of flowers, the family would like to request people share a BIG smile and a small act of kindness in Bob's memory. Donations can be made to a charity of donor's choice. Online condolences may be placed at www.BrenansFH.com