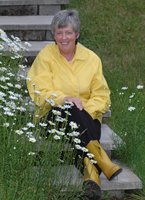 Isabelle "Belle" Watkins
There is sadness in our hearts but joy in her peace in announcing the death of Isabelle (Belle) Louise Watkins, 76, at home in Saint John on March 30th, 2021. Belle was born in Bridgewater and adopted at a very early age by her mother Mary Louise Clayton in Halifax. For the past 13 years she has danced with the trials of Cancer. In the end she won the battle in that it did not change her or lessen her ambitions and Belle is now singing alto in a heavenly choir.
Belle attended the Halifax Ladies school from primary to grade 11, and the Mount Academy for grade 12. Then attended Dalhousie University graduating with a Bachelor of Commerce degree and then her Education degree in 1967 At Dal she played on the women's champions field hockey team earning her "D" twice.
She first taught grade 5 at East St Margaret Elementary and then at Central (Fairview) Elementary in Halifax and after marriage and relocating to Truro she taught at Douglas Street School. She became a faithful stay at home mom following the birth of her two boys, Kevin and Kristopher. Along with her best friend Susan Bolton, she was a lifelong member of Beta Sigma Phi filling a number of offices during her time. In 1979 Ken and the family relocated to Halifax and Belle continued her community involvement with the Home and School, Block Parents organization and at Calvin Presbyterian Church.
In 1997 the family relocated to Saint John and Belle enjoyed many active years curling at Thistle St Andrews, and singing with the Carlton Choristers, her Church choir, and playing the ukulele in a small group in West Saint John. She loved to garden and pictured many of natures marvels in her paintings. Through music, gardening and art she enjoyed the involvement of her grand children.
She is survived by her husband Ken, sons Kevin (Jennifer) of Dartmouth and Kristopher (Laura) of Edmonton and her Grandsons, Samuel, Benjamin, Paul and Michael. Also survived by her brother Reg Clayton (Helen) of Hacketts Cove, NS. Belle was predeceased by her mother Mary Louise Clayton and Helen D'Aubin who was always like a mother to her.
Cremation has taken place and a funeral service will be scheduled when the Atlantic Bubble re opens. The family thanks Dr. M. Burnell and Dr. F. Naz and the staff of the Oncology Department at the Regional Hospital, the staff of the Extra-Mural program and Dr. K Cameron for their medical support.
Arrangements are under the care of Brenan's Bay View Funeral Home, 1461 Manawagonish Road, Saint John, NB (634-7425). A funeral service will be held at a later date. In lieu of flowers, donations in Belle's memory can be made to the Canadian Cancer Society.