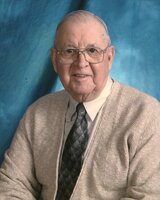 Ralph Joseph Clements
It is with appreciation for a life well lived that the family of Ralph Joseph Clements, beloved husband of Bertha (Monaghan) Clements, announces his peaceful passing, which occurred on August 23, 2021, at his home surrounded by his loved ones. Born on July 10, 1927, in Brockton, PEI, he was the son of the late Edmund and Agnes (Jones) Clements.
Ralph served as a private in the army during WWII, enlisting in Charlottetown, PEI, in 1942. He had a long career at the Irving Pulp and Paper Mill spanning 42 years, retiring in 1988 from a supervisory role. Once retired, he did not waste any opportunities to enjoy himself and took time to travel overseas. He and Bertha visited Rome and got to experience his dream of visiting the Vatican among all their destinations. Ralph always loved the outdoors. He started the camping tradition that began in a tent, eventually upgraded to a park model trailer in Cambridge Narrows, NB, and graduated to owning his own cottage in Second Falls, NB. He was an avid hunter and fisherman who loved the water, and was an excellent woodworker. He even had a hand in designing and building all his own homes as well as several others', 13 houses in total, and also refinishing his own cottage. Ralph was also involved in many clubs and activities like the Knights of Columbus, Legion Branch #69, Irving Pulp and Paper Retirees Club, and the 30 Up Club. He was very competitive, he loved to win at bowling, horseshoes, cards, washer toss, and baseball. Ralph was a character and family man and did everything to give his wife and children a wonderful life. He will be forever missed.
Ralph is survived by his loving wife of 75 years, Bertha; children: Diane (Eric) Black, Linda (Bob) Moore, Gary Clements, Wayne (Linda) Clements, and Kim (Mike) Bury; daughter-in-law: Cheryl Clements; sister: Ada (David) Waddell; brother-in-law: Fred Beaulieu; 12 grandchildren, 22 great-grandchildren; 1 great-great-grandchild; as well as several nieces and nephews.
Besides his parents, Ralph was predeceased by his brothers Daniel and Edward, and sisters Kay and Mae (Dale).
Ralph's family would like to extend their deepest gratitude to his caretakers Leslie, Stella, Anna, Melissa, Ploy, Eve, Amanda, and Nancy for all their compassion and kindness.
Resting at Brenan's Funeral Home, 111 Paradise Row, Saint John, NB (634-7424), a visitation will take place on Wednesday, August 25, 2021, from 2 PM – 4 PM and 6 PM – 8 PM with a Legion Tribute to begin at 7 PM. A Mass of Christian Burial will be celebrated on Thursday, August 26, 2021, from St. Matthew's Parish, Grand Bay-Westfield at 1 PM. Interment will follow at St. Augustine's Cemetery. Donations in Ralph's memory may be made to a charity of the donor's choice and online condolences may be placed at www.BrenansFH.com.