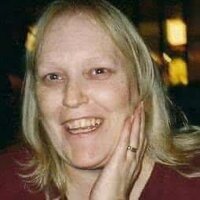 Dianne Lint
It is with great sadness and heavy hearts by the family to announce the passing of Dianne Lynn Lint. Born in Fredericton on April 26, 1955, she has passed away peacefully at the Saint John Regional Hospital on October 17, 2021. She was predeceased by her parents, Ethel and Fred Sweeney. She was also pre-deceased by her husband, Tony Lee Lint.
She is survived by her sisters: Jocelyn Sweeney (Len), Myrna Sweeney, and Lori Deuville (Tommy); brothers: Gene Sweeney (Linda), Michael Sweeney and Darren Sweeney; also survived by her loving daughters, Jennifer Lint and Alicia Lint (Waylon); her best friend Crystal Estabrooks; as well as her faithful companion, Deborah Deveau, who all loved her very much. She is also survived by her grandchildren: Marissa, Jada, Tony, and Keenan.
Dianne had a great career and loved what she did as a Supervisor Lab Technician for Horizon Health (SJRH) for over 30 years, along with having many great hobbies and pastimes, such as bingo and traveling all over the world, including Paris, Toronto, and many other places. She loved her Blue Jays team as well as the Toronto Maple Leafs. She was an avid sports fan and often attended her Blue Jays games. She will be forever remembered as being a strong and resilient woman who took the world by storm as a great leader and will be forever missed as well. A presence that is forever etched in our hearts.
Many thanks to all the Palliative Care Nurses on the third floor and the many doctors and nurses on the fifth floor who took the time and gave her care during her stay at Horizon Health (SJRH), as they went above and beyond to make Dianne's final moments peaceful and everlasting. Thank you as well to Karen Bedford on 5C South who helped assist the family with being able to unite with Dianne during these difficult times.
There will not be a funeral by request of the family. Donations can be made for the Kidney Foundation of Canada and Canadian Diabetes Association.
Arrangements are under the care and direction of Brenan's Funeral Home, 111 Paradise Row, Saint John (634-7424).