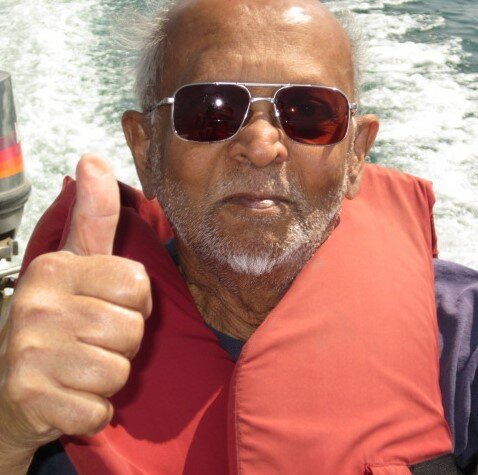 Obituary of Indrajit Gandhi
In memory of Indrajit Ratilal Gandhi - April 1937 to August 2021
With deep sadness we announce the sudden passing of Indrajit Gandhi (known as Gandhi to most). He passed peacefully early Monday morning August 16, 2021 at 6:49 am surrounded by his loving family.
He was born in Mumbai, India to Tarabhen and Ratilal Gandhi. He is survived by his wife Suvarna (Sonal); his children Neena, Neha, and Nayan; his daughter-in-law Wiebke; his grandkids Navid and Lina; his granddog Doe; and several nieces and nephews. He was predeceased by his three brothers and four sisters and their respective spouses.
Indrajit left India to pursue his Mechanical Engineering degree at Marquette University in Wisconsin, USA. He made his way to Toronto, Canada finally arriving in Oromocto, Canada in the early 70's. Later he relocated to Saint John, Canada where he created a beautiful life with his wife and children.
Indrajit was known throughout the community for his kindness, interesting conversation, joking nature and boisterous laugh. Never afraid to express his opinion, he was a voracious reader and passed his love of reading on to his children and grandchildren. He was always willing to offer advice and support to anyone who asked.
Amongst his close family he was a loving husband & father, a shrewd card player, and a bone crushing hugger. Always scheming he was, until the end, working on home repairs, playing in his garden and generally enjoying life.
He was always full of life and cheer and never let anything take away from his love of family and life.
With all our heart we love you Gandhi/Dad/Papa/Dada.
A private family ceremony was held on Wednesday August 18th and a Celebration of Life will be held at a later date.
In Gandhi's memory, in lieu of flowers, donations may be made to the New Brunswick Lung Association or Diabetes Canada.


Share Your Memory of
Indrajit